At Spice of India, Kamloops Indian
Restaurant Customers are Guests
Spice of India owner Sukhwinder Sawa says owning a restaurant was something that just happened.

Sawa and her family have called Kamloops North Shore home for over 30 years and have owned other businesses over the years including a convenience store.

After a business partner left for other pursuits Sawa came to work with her husband and now she and her son are running (Spice) the Kamloops North Shore Indian restaurant.

Sawa says she couldn't have imagined it but she' loving it and describes the restaurant as friendly, family-oriented and welcoming.

"It's a family environment and everybody who works here enjoys working here. We work seven days a week. We don't even have a day off.

The customers, they are my guests so when a guest comes to your house  …you want them to be welcomed and to feel comfortable".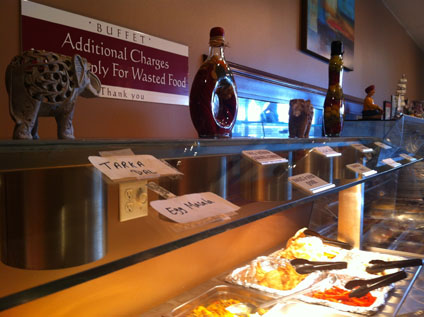 Spice of India, lunch buffet

The dedication has paid off. Since Sawa took over running the restaurant Spice has won two certificates for number one Indian restaurant in Kamloops.
Sawa says the restaurant enjoys a lot of regular customers. She says when your customer is coming in and feeling good about the food and they are coming back this tells me that they love the food. "Word of mouth is very important to me."

Sawa says Indian food is a health-wise choice and she says, at Spice many dietary needs including vegetarian, dairy and gluten free can be met.

"People who have allergies from milk or from wheat, they can come here and enjoy a meal. You can have any dish that we make on our menu, we can make it wheat-free and we can make it dairy-free."

Sawa herself is vegetarian and she says one of her favorite dishes on the menu is a veggie tofu called 'chilli cheese'. "We make it from milk. It's like a curd milk which doesn't sound good but it is very creamy. It has no taste to it but when you mix it in gravy it's really good. It's just like having a protein. It's a veggie meat you can say."

For Sawa success means customers coming in and feeling good about the food. " I don't do a lot of advertising. My customers are doing it for me and this means I'm on the right path. "We have good food".

Sawa also says it's important to her to support the North Shore. "I love to support local business so all our produce comes from Nu Leaf and the meat comes from River City. For the Indian foods like our grains, beans and all the spices, we go to Vancouver for that."

Sawa says the thing she has learned most in business is to be honest and have a smile on your face. " I think when you have a positive attitude everything is possible."

| | |
| --- | --- |
| | |