Nature's Face and Body
for natural and organic products

At Nature's Face and Body on Tranquille Road Kamloops North Shore, Owner Carolynne McKenzie says it's all about being healthy.
The shop opened in May 2012 after Carolynne and her family began using natural products.
Carolynne says she started the store because she found natural and organic products to be pricey and wanted to provide products with reasonable prices so that everybody could afford them… "everybody should be able to afford excellent, organic and natural products at a reasonable price".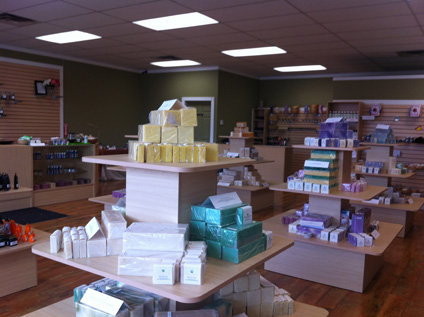 Carolynne, who also still holds down a nursing career says the ingredients in other products, is frightening and if you can't pronounce the names, you shouldn't be using it on your skin. "There're strong links to diseases. Anything with "parabens" and "sodium lauryl sulfate" in shampoos (the stuff that makes it bubble) is really, really bad for your eyes. It's just terrible and all of that is absorbed into your skin.

I also have pets and the first thing they do when I put something on my skin, is try and lick it off.  I love my animals a lot and I don't want them to be licking up harmful things. I went to natural cleaning products because it's the same thing. I wash the floor. They're licking it."

Carolynne describes her liquid laundry cleaner as amazing and says that it's the top selling item in the store along with other favorites shea body butter, mineral makeup and other products like:
Herbal tinctures
Soaps
Shampoo
Skin Care
"We offer a large selection of unscented products because there is that need as well. A lot of workplaces are scent-free and take that very seriously and so there are a lot of people that come in for the unscented products and for those who want a scent we will customize scenting with essential oils and fragrance oils of the best quality we can get.
We also offer custom kit baskets and a refill option on the laundry cleaner and the shampoos. People can bring back their bottles and we'll fill them up again so we're putting less into the landfills.
Not all of our products are organic but they're all natural. So we go back to things like pure castile soap, something basic that probably our grandmothers used."
Natural and Organic Products Make a Difference

"I love all our products. I've noticed the difference in my skin and a difference in the way I feel" and she says her customers do too.
"I have a customer with rosacea who hadn't worn makeup in 10 years because it burned her skin. We tried some of our product on her here in the store and she was actually glowing as she just looked at herself and remarked  "I haven't looked like this in years."
"Another customer had a lot of eczema on her hands. Now instead of using her prescription cream she uses ours.  We don't make medical claims but our products work for some and it's a really good feeling that you've been able to help people. I've had lots of people just say, "Oh my god, your products are amazing my skin feels better. I feel better."
"When you come into our store you will always find a smiling face and no pressure sales.  We don't work on commission we just want people to try our products. If they're here for an hour and they ask questions, that's great. We're happy to talk about it. We love it."
Top of Nature's Face and Body Page