Reubin's Diner on Kamloops North Shore
 
hearty, full of flavour, homemade food
You may call me Reubin which isn't the same as my Ruben sandwich jokes Mike Ward the owner of Reubin's Diner in the Kamloops North Shore Business area.

After 25 years as a social worker Ward says he's doing what he loves.
"I've always liked cooking. I've always been a social cooking guy.  People have always liked my food and I wanted to put all the foods I love like pulled pork, pork tenderloin in a restaurant and breakfast all day is really important. There's something about breakfast and just good hearty sandwiches and things made from scratch, homemade soups and good desserts."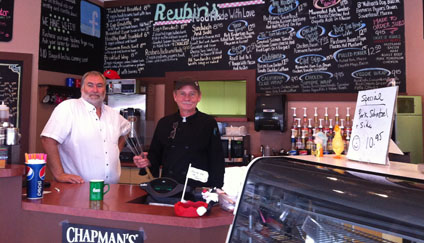 "Of course we have a great Reuben it would be pretty embarrassing to have a lousy Reuben in Reubin's. I just love the name and I love a flavourful Reuben. We make our own Russian dressing for it and people love it. I'm very proud of it and I take it very seriously that we have a perfect Reuben every time."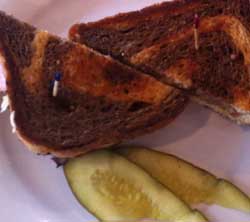 A Reubin's Reuben

"A basic Reuben is pastrami. Some people do corned beef, but we do pastrami and then you have sauerkraut, Swiss cheese and hot mustard. We blend it with a Russian dressing and then we grill a marble rye bread and that's a Reuben you'll never forget!"

Besides the regular Reuben there's also the challenge burger called the Reubinator that weighs 7 pounds (3.1 Kilograms) and for the ladies a "Sarah Connor Burger" that's 4.5 pounds (2.04 Kilograms). Women can also try the Reubinator if they think they're up to it…

For finishing the Reubinator you will receive an Exclusive Special Terminator T-shirt and you get to choose a table in the restaurant that will be available to you at your discretion.

But, if you take-on the Reubinator and are not able to finish it, you will be forced to write your own name on the Reubin's Wall of Shame.

Reubin's Diner Menu

Reubin's ingredients are sourced in Kamloops and within the region as much as possible. All the meat and produce are local so is the bread and the milk.

Reubin's uses a lot of imagination in their sandwiches and have been inspired to name sandwiches after local people.

There's the "Lucy" which is a special sandwich made after Ward's three-year-old.  They have a sandwich named after a Jewish tennis buddy who declared, "You're going to make a Jewish sandwich if it's a diner!"

There's even a sportscaster in town who umpires soft ball games that Ward has made a sandwich after. "We'll also be adding a Mark Recchi  sandwich and my father and my brother-in-law are firemen so I made a sandwich after them called the Firehouse. It's really hot… It's a spicy sandwich.
There's also a sandwich called the Three Amigos, a traditional club that is very, very big and wraps that are more designed for the ladies".

Ward says at Reubin's there are specials that go on during the week "every Tuesday we have homemade Schnitzel, Thursday we make homemade burgers, Friday is our steak day and Saturday is baby back rib day."

Ward's plan for the Diner is for it to be a North Shore community restaurant with a nice warm location where people want to come and hang out. He says on weekends it's not uncommon for people to sit for an hour for breakfast or brunch to talk, read the paper or have a couple of coffees or a latte.

"I'm kind of a sociable person so I want people to come and feel this is a local place. When you come in here you're going to be checked in on to see how your day is going and made sure everything is good and you're happy when you leave. Good service is really important to me."

Ward says, "I want people to drive right up here and come eat my food. It's healthier than going to a fast food place and with pretty much the same price.

Reubin's Diner is that quirky saying, made with love and we're very proud of that ... I will not serve anything that I'm not proud of."

| | |
| --- | --- |
| | |