Juniper Garage Sale

The first Sunday in May is always the GIANT neighborhood wide Juniper Garage Sale.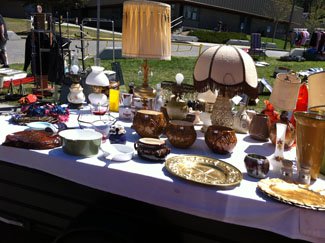 Juniper Ridge Garage Sale
Most everyone in the neighborhood is in on it, though, it may only be observing the spectacle from the comfort of the front room or patio deck.
Those who find the whole thing a nuisance know to leave first thing in the morning while the home owners are setting up shop and the road is still clear to get down the hill before the throngs of bargain seekers arrive.
It's the proverbial soup to nuts featuring no longer wanted items that other people are searching for and/or are willing to buy from outgrown clothing, to furniture, tools, knick-knacks, books, pictures, toys and cars for sale.
Juniper Ridge Garage Sale
A service organization will often be involved and set up food service and porta-potties in the parking lot of the neighborhood elementary school.
Getting there is easy. Go up Highland Drive to the traffic circle and then turn right or left and join in the fun.
While visiting the neighborhood be the perfect neighborhood guest!
Participants are requested to follow City of Kamloops and provincial traffic laws.
Do not double park, block emergency access or private driveways.
Happy Shopping!