Gourmet Kettle Fudge and Popcorn,
Taking it to the Next Level

(Closed for Business)
At Gourmet Kettle Fudge and Popcorn making things fun again and customer service is what it's all about.
Marnie Davis-Schaak and husband Jason Schaak opened their Kamloops business in August 2012 and are very much a family business right down to their employees who are mostly their children.

(paraphrased interview with owner Marnie Davis-Schaak)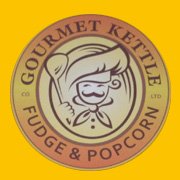 We wanted it to be very much a homey kind of atmosphere where people are relaxed and are treated like their being invited our home. We chat and joke with our customers and staff/children.

At first we started out with a focus on fudge but Jason is all about the sweet tooth and I'm all about the salty so we thought, "How do you marry those two things together?"

After about a year and a half of research and seeing what was out there we incorporated our ideas and made them into something that was our own.

Because of our location here in ValleyView the store attracts a lot of people off the highway that we wouldn't normally see like people from Vancouver and Alberta.

We have brought in different things like ice cream that's a good draw for summer. The fudge is good in the fall and perfect for gifting coming into December.

Gourmet Kettle Fudge & Popcorn
We always knew the popcorn would do well but it far surpassed what we had expected. It's actually ended up being our strongest seller taking us right through January and February.

Our popcorn has a strong flavor that people aren't expecting. They are pleasantly surprised and will often say, "Oh My God. It tastes just like you said."

We get much of our inspiration from our customers. They'll come in and say, "Oh My God! Have you ever thought of –?"

Some of the most fun things I love about the store are always changing everything, adding new items and the sampling.  I love seeing people's reaction when they try a new interesting flavor… that and little kids... They love everything!

We love our customers, they're part of the family especially our regulars. They can walk in the door and we know exactly what flavor they're going to want and it's fun really because it's like you're welcoming a friend.

When a new customer comes into the store, usually the jaw drops and there's a stunned expression. Many times they will come in for ice cream and then all of a sudden, they look around and we hear a lot of, "Oh My God! I didn't know you had all this stuff!"

If we're making product live, we will typically sample with our customers as we're making it fresh. It's not uncommon to be doing fudge and give it to customers while it's still in liquid form and warm from the kettle or the caramel corn where it's still hot and still sticky and gooey. People really interact with that.

We're about is taking this kind of this retail atmosphere to the next level and Bringing Customer Service Back.  With the trend of doing more with less, customer service seems to be one of those things that get sacrificed.

At Gourmet Kettle Fudge and Popcorn we really want everyone to know that we're all about Customer Focus, Customer Service and making things FUN again.
| | |
| --- | --- |
| | |