Kamloops Regional Farmers' Market,
 
fresh local food and handcrafted items
Kamloops Regional Farmers' Market as we know it today developed in 1978 when some community minded groups came together to make a difference locally to address the issue of hunger.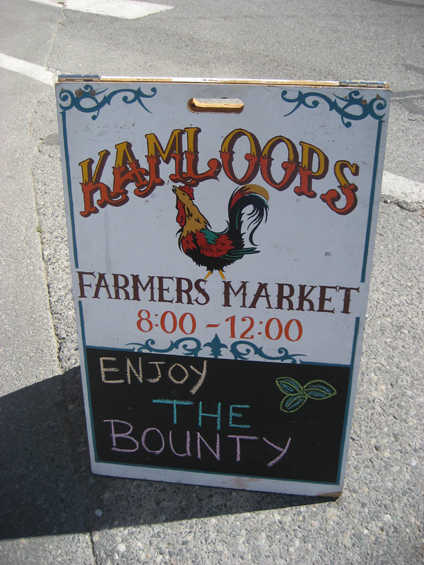 Kamloops Regional Farmers' Market
The market has gradually evolved where it's now the farmers who make all the decisions and everyone on the board is an agricultural vendor.

Make it, bake it or grow it to be a vendor at the market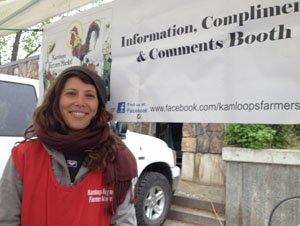 Annelise Grube-Cavers
Saturday Market Manager
Annelise Grube-Cavers, Saturday Market Manager says to be a vendor you need to raise, grow, make, bake or harvest your product.

This is a producers market says Annelise.  "You can't buy things from someone else and resell them at the market.

The mandate of the market is to create an outlet for local producers to connect with local consumers and it's a pure form of helping the local economy.

When you start reselling things, it becomes difficult to trace where the stocks are coming from and it's introducing a middleman into the economic transaction."

Kamloops Regional Farmers' Market extends up to Barriere, West to Merritt, East to just past Sorrento, and to Falkland.

Annelise says sometimes the market will allow vendors from other areas are allowed if they are selling something that's not grown or produced within the regions or we don't have enough supply.

"We have a blueberry vendor who comes up from the coast and also there's some tree fruit vendors from the Okanagan to solve those things."

Range of Products at the Farmers' Market
While produce doesn't have to be certified organic, she notes there is a wider variety of organic produce available than you would find in the local grocery stores.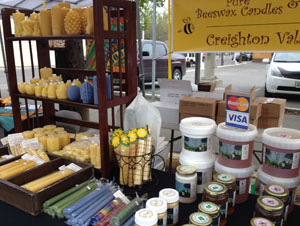 Creighton Valley Apiaries
There's also honey, sauces, herb mixes and other prepared foods.
"Prepared foods are subject to Interior Health Authority approval and sometimes we also have specialty items like wool.

We have one producer who provides lamb and they do shear their sheep. The wool is sent away to be cleaned and dyed and spun and that product is sold at the market."

As the Saturday Market Manager Annelise says it's a natural fit to be working with all the vendors in the interest of local food.

"I actually live on a farm and we have a family booth at the market.

I grew up, going to the farmers market as a vendor with my parents and I've always it.

My grandfather started farming corn and potatoes in the 1940s and my parents continued doing potatoes and corn and then diversified a bit adding strawberries and a market garden."

Impact of the Farmers' Market on the Local Economy

At the market there's ofter food trucks. "We have food trucks that come to the market and use ingredients from the market right there to make breakfast sandwiches and lunches for people."

She also says, as local food becomes more and more central to consumer choices, a shift is happening.

"We have some local chefs come to the market every week. They order specific items from certain vendors and wander up and down buying produce that catches their eye."

"When you look at money that's spent locally and how important that is to the strength of our economy, there's a multiplier effect.

Every dollar that's spent on a locally-produced good, is worth more than a dollar to our local economy, because that vendor turns around and whatever from a local business."

Annelise says the farmers' market is  pretty dynamic and it has a huge impact then on the health of the local economy.

"It's not just what people are eating but it's also the education that comes along with it.

A lot of the producers are very enthusiastic and open to the teaching as part of their job as a farmer sharing recipes and sharing growing techniques.

Even just having the exposure going to the market and saying, oh, it's June and strawberries are ready. It's kind of takes away a bit of that distance we have from our food system."

The Farmers' Market is also a long time supporter of the Food Bank and, another aspect is the Farmers Market Nutrition Coupon Program that makes the market accessible to low-income households.

"Currently there are 80 households that get coupons each week to spend at the market.

Along with this is an educational component that enhances people's knowledge of healthy eating and healthy cooking."

The market is also an important place for discourse. "Political candidates are invited before elections and people are invited to ask them questions. That's happened before the last municipal election and it will again before the next federal election."

From late April until the end of October visit the Kamloops Regional Farmers' Market for a range of everything that is grown in this area.

...starting with asparagus, greens and radishes, honey and jam and all kinds of different arts and crafts and homemade soaps, lotions and creams right through to pumpkins and sweet corns.

Agricultural Vendors

| | | | |
| --- | --- | --- | --- |
| Bernardo Gardens | Artisan Cheese | Baking by Sandi | Battle Street Butter |
| | | | |
| --- | --- | --- | --- |
| Berry Sweet Garden | Bliss Tea | Bohemia Bakery | Cheffield Urban Farm |
| | | | |
| --- | --- | --- | --- |
| Country Greenhouses | Creighton Valley Apiaries | Erik's Sausage & Meats | Erwins Fine Baking |
| | | | |
| --- | --- | --- | --- |
| Harper's Trail | Helmcken Chocolates | Kurts Deli | Laughing Swan Farm |
| | | | |
| --- | --- | --- | --- |
| Marshall's Bakery | ask a Master Gardener | River Fresh Salmon | Sagewood Winery |
| | | | |
| --- | --- | --- | --- |
| Turtle Mountain Coffee | V Raj Organics | Whisked Away Bakeshop | |
Arts and Crafts Vendors

| | | | |
| --- | --- | --- | --- |
| Alyse Kirsten Designs | Crafts By Ruth | Crock of Shirt | Forest Garden Soap and Sundry |
| | | | |
| --- | --- | --- | --- |
| Health and Vitality | Kips Kettle Corn | Love Me Knots | Lynne's Quilting and Fibre Arts |
| | | | |
| --- | --- | --- | --- |
| Medicinal Magnesium | The Sassy Seamstress | Annelise (Saturday Market Manager) | |
Kamloops Regional Farmers' Market
www.kamloopsfarmersmarket.com
www.facebook.com/kamloopsfarmersmarket
Follow us on twitter @KamloopsFarmMkt
 250-682-7975