Business and Non-profit
Hello Everyone,
"More brands are waking up to their social responsibility and doing good work through cause marketing campaigns." Simon Mainwaring
Kamloops News
Goodwill Marketing
Small Kamloops business owners share a unique opportunity that owners of some of the city's larger businesses and corporations don't have and that is the ability to quickly make decisions about how they want to use their resources to contribute to the community.
Without a lot of fanfare that involves different departments and managers,it's a lot easier to decide which community organization or non-profit you would like to contribute to and in what way.
You can choose to give money, volunteer time or donate services or products to a local non-profit.
Sometimes non-profits even have partner programs where you can develop an ongoing relationship to support the organization which can lead to your business being listed on the organization's website and other marketing materials.
This is a win-win. The organization gets the benefit of your expertise and your business is sure to benefit from being recognized as being engaged with the community.
Choosing to give money more often than not is tax deductible and choosing to volunteer time can be a welcome break in your daily routine while making a difference in the community.
In our next issue we'll start to focus more on local business and how businesses can plan to increase profits and branding online in addition to our usual friendly information about our beautiful city.
Make sure you bring a pen and paper!
---
Reviews
The Coldest Night of the Year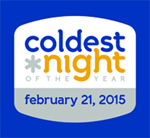 On February 21st the Kamloops News And Reviews team and some of our friends will be bundling up and doing the Coldest Night of the Year fundraising walk here in Kamloops.
We're fundraising for New Life Mission. New Life Mission will be spending the funds on local programs and services to the needy and impoverished and have been doing so since 1980.
This is our second year. Last year our team was able to donate $1485.00 (this year we'd like to double that) towards the $31,935 raised for New Life Mission here in Kamloops.
New Life Mission programs include providing hot meals, dental services and operating "Thrift City" thrift store which carries men, women and children's clothing, household goods, furniture and books.
Would you support us?
You can give online on our fundraising page.
...OR BETTER YET CONTACT ME AND JOIN US ON THE WALK TO SHOW YOUR SUPPORT!
I PERSONALLY hope that you will join us in assisting and improving the lives of the less fortunate in our community.
We hope that you will join us in assisting and improving the lives of the less fortunate in our community.
Your donation will make a huge difference in the lives of those who are reached through the WALK's partner programs.
---
Goal Setting

Download a FREE copy of Achieve Your Goals fair warning it's work and it'll take a few days to complete.

We'd love to hear from you.

Please share any feedback you may have including what you do or don't like about our website or what you would like to see included.